ProActive Pest Control: Back to Back Top Performer for Agenda
Congratulations to ProActive Pest Control for winning the Agenda Applicator of the Year in 2016!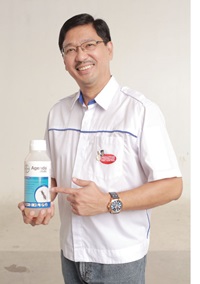 After a very successful campaign in 2015,
ProActive Pest Control
once again surpassed itself in 2016 to become the Top Agenda Accredited Applicator of the Year, further growing their Agenda business by 13%! This is a strong testament to the company's dedication and commitment to growing the termite industry through a combination of great product and excellent customer service.
Eleazar "Dong" T. Concepcion, president and general manager of ProActive Pest Control has been working hard to earn the trust and confidence of our country's top architects and general contractors. Today, he is one of their most sought after pest control operators, and this, he attributes to a steady partnership with them, offering advice and consultations to ensure that the best homes and buildings are protected with the best termite system. Architects are happy to endorse ProActive Pest Control to their clients because of their good track record and personalized approach to customers.
ProActive Pest Control has also developed its CCAS or Central Chemical Application System, a piping system designed to provide a more efficient way to protect homes for the long term. And soon, their services will be available in Visayas and Mindanao!
Congratulations & more power to the dynamic team of ProActive Pest Control.
Find out more about ProActive Pest Control by visiting www.proactivepestcontrol.net. Email them at proactive.pestcontrol@yahoo.com. Or call ‪939-8844, 936-0023‬, ‪417-8781‬, ‪425-8337‬, ‪(0917) 850 6259,‬‪ (0939) 903 0173‬, ‪(0922) 882-3661‬ to 65 to speak to one of their representatives today.‬