Experiencing Dengue
Several million people are at risk of contracting a mosquito-borne disease at any given time. Most of these people are not aware of this risk and what they can do to mitigate it. What about people who are familiar with these diseases? What do they have to say?

On the occasion of World Mosquito Day this week, we bring two different perspectives – the story of a man who suffered from dengue fever, and a man whose work is to protect us from mosquitoes.

We first interview Mr. Gan Khian Fie, a resident of Johor Bahru. He contracted dengue 3 years ago when he was 25 years old.

What was your dengue episode like? How serious was it?
My dengue fever was quite severe. I felt really weak and was admitted to the hospital as my platelet count dropped drastically to below 60,000 per microliter of blood (a normal person has between 145,000 to 450,000 platelets per microliter of blood). I never want to experience that again.

Did anyone else in your neighborhood get dengue during that period?
One week after I contracted dengue, my housemate was infected too.

What do you think of the local efforts to control dengue?
While the government sometimes checks individual houses and conducts fogging, I believe it should be done more frequently to make sure the community is safe.

What are some of the dengue control efforts that you have seen?
I have noticed that specifically when a dengue case is detected in the neighbourhood, environment health officers are sent to do a survey, before fogging the house and surrounding area.

Do you think the community plays a part in managing the transmission of dengue?
Yes, the community needs to take responsibility in keeping their surroundings clean. We should also be more receptive to the health officers whenever they visit the area and speak to residents – whether to check for mosquito breeding sites or raise awareness about breakouts in the vicinity.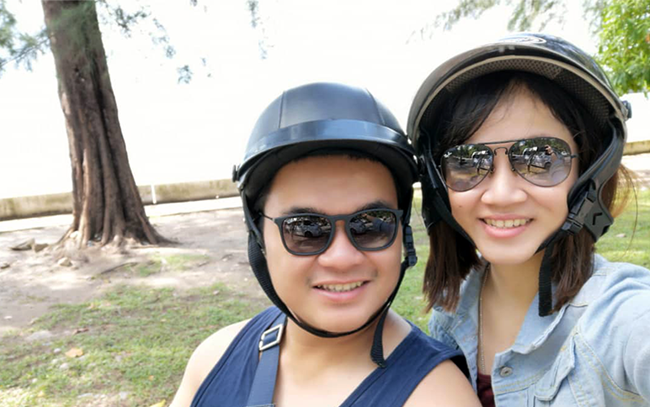 After his experience with dengue, Mr Gan and his wife ensure that they are always adequately protected from mosquitoes (for eg. applying personal using repellents) when enjoying outdoor activities.

-------------------

Dr Hui Siang Tee is currently the Market Development Manager at Environmental Science for Bayer, based in Malaysia. He works with local authorities to ensure as part of his responsibilities and shares his insights on being part of the Bayer Asia Pacific Vector Control Team.

What do you do to manage dengue as part of your job?
I work with government public health officers on a wide range of tools to break the mosquito life cycle. Part of my job also requires attending government-organized health exhibitions to share the company's innovation in vector control. Other than introducing the latest solutions targeted at mosquitoes such as K-Othrine® Polyzone, I also introduce digital tools like Bayer Mosquito Learning Lab and Mosquito Quest with the public that help increase the awareness of mosquito-borne diseases and what each person can do to safeguard their community against dengue.

What are some of the difficulties that public health officers face?
Coping with the surge in dengue cases over the last few years has become a challenge. While population expansion and urbanization have raised the yearly incidence of dengue, government officers are constrained by the same level of resources and funding.

What would you say are your challenges?
Implementing a more sustainable way of dealing with dengue through the integrated management of Aedes mosquitoes is definitely a challenge. This includes applying water-based fogging solutions, larviciding and adopting an innovative target residual spray to break the life cycle of mosquitoes.

What do you envision for the future of dengue management?
The way I see it, dengue management will probably focus on two areas in the coming years:

Artificial intelligence (AI)

in monitoring and applying insecticides. AI would lighten the burden on the current problem of limited manpower, as well as optimize the use of resources by precisely predicting (evidence-based) when, where and how much product to use to effectively reduce the mosquito population.


Biological control

such as releasing mosquitoes with Wolbachia is another method that is being given significant attention and is currently a beacon of hope in terms of reducing disease transmission.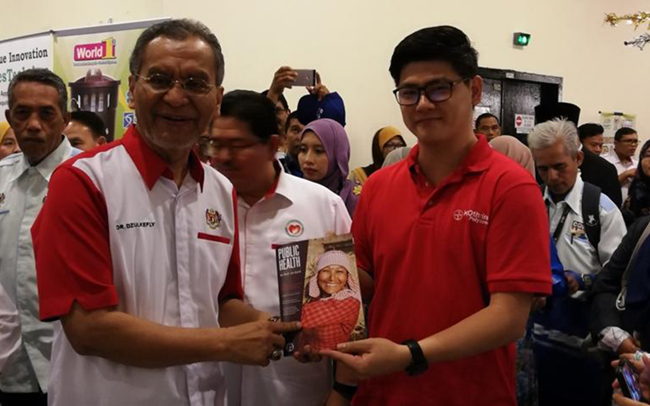 Dr Tee Hui Siang (right) sharing Bayer's Public Health Magazine with Malaysia's Health Minister, Datuk Seri Dr. Dzulkefly Ahmad during the nation's annual commemorative activities for ASEAN Dengue Day.