Dialogue on Dengue
A student's perspective on the journey of dengue elimination so far. Aparna Nellore shares her thoughts on why dengue still remains a Neglected Tropical Disease (NTD) since 1789 and why public advocacy is critical in fighting the disease.
As we commemorate the annual World Mosquito Day on August 20, I am troubled by many questions – questions relating to the progress towards dengue elimination, and the progress we have left to make. As a young student with an interest in public health, I worry whether our communities are doing enough to keep dengue away. While each overturned water bucket and clean flower vase counts, the international prioritization dengue receives is nowhere near where I feel it should be. The WHO Global Technical Strategy 2016-2030 targets malaria, but what about a strategy to tackle dengue globally?
Dengue in its severe form causes 25,000 deaths annually worldwide. It does not discriminate, affecting both the rich and the poor, disproportionately so the latter; which logically means it deserves even more attention. However, after reading multiple peer reviewed publications; here are the main reasons why I think dengue remains 'neglected' till this day:
Currently, the primary mode of prevention for dengue is vector control. A major component of this is environmental management/source reduction, which require continuous efforts from the community and no major costs. This makes it convenient to view dengue as an inexpensive disease, which needs to be solved through community action, thus diffusing responsibility and funds.
Dengue incidences have surged in the last few years, even in countries that were previously not endemic. Outbreaks are increasing and occur in irregular patterns. Dengue is far from elimination; it keeps evolving and is often misdiagnosed and/or misclassified. Hence, dengue is not attractive to investors or donors as there are no guaranteed wins. It is more appealing to fund a disease like malaria, whose eradication is in sight, and be a part of history.
Recently, the focus has been on dengue vaccine development, rather than vector control. This is possibly because the efficacy of vector control activities is not always quantifiable and a more permanent solution like a vaccine is desirable. However, until the dengue vaccine becomes mainstream, inadequate vector control is making dengue more dangerous.
Unlike malaria, dengue has not garnered a strong global advocacy dedicated to its elimination. But a world where dengue continues to be a serious threat could potentially result in increasing 'hyper-endemicity of multiple dengue virus serotypes in many countries'(WHO, 2019), higher morbidity than ever before and the disease being spread to even more new areas! And with rapid urbanization, a highly adaptable vector, climate change, capacity challenges on the ground, increasing population mobility, frequent international travel, etc – I fear that whatever progress we have made will suffer a severe relapse if dengue continues to remain neglected and underfunded.
It is common knowledge that we should dedicate resources to stricter and regular implementation of vector control, in tandem with vaccine development, in our quest to tackle dengue. A unified and proactive approach will be the most effective, especially as the prevention of dengue is certainly better than (no) cure. Countries must prioritise dengue control in the way most suitable for their context and continue to implement vector control programs that work.
Although I may not have enough technical experience to comment much on this issue but current research into new vector control tools keep me cautiously optimistic about dengue control. These include utilizing Wolbachia to reduce disease transmission, insecticide-treated curtains for the day-biting Aedes, or even releasing guppy fish in water containers that cannot be emptied regularly. There is so much more that I am keen to learn and I hope that one day I myself can contribute towards dengue elimination.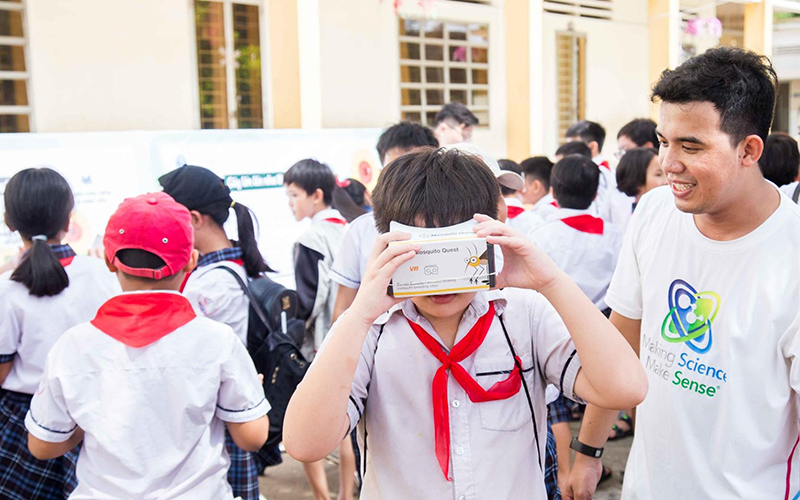 Advocacy, raising public awareness and community engagement are critical when it comes to source reduction in dengue control efforts. Quang Nguyen Thanh (Market Development Executive, Environmental Science Vietnam, Crop Science Division, Bayer) shows a primary school student at the Bayer Science Festival in Long An, Vietnam how to use Bayer Mosquito Quest – a virtual reality tool where users identify potential mosquito breeding spots in a typical home.
*Disclaimer: Bayer Mosquito Quest has been discontinued as of 2020. Click here to find out more about our vector control solutions.
-------
About Aparna Nellore
Aparna Nellore is currently an Economics and Public Policy undergraduate with Singapore Management University (SMU) and was previously a Public Health intern with the Environmental Science team in Asia Pacific.