Product Overview
Aqua Resigen® is an environmentally-sensitive solution for flying insect pest and vector-borne disease control; exclusively sold through Alog & Company, Inc.
Product Description
Key Product Facts:
Active ingredient: S-bioallethrin (pure) 1.4 g/L; Permethrin (pure 25:75, public health grade) 102.6 g/L; Piperonyl Butoxide (pure) 97.9 g/L.
Aqua Resigen® uses the FFAST technology developed by Envu to enhance the performance of space sprays when diluted with water.
The fine droplets of the Aqua Resigen® solution do not quickly evaporate, thereby increasing the chances of the droplets contacting with the adult mosquitoes or flies.
Dilution in water brings no visible fog, no smell and does not leave staining residues.
Environmentally-sensitive option for mosquito and fly control.
Easy to apply compared to oil-based diluents.
Cost-effective - eliminate the use of oil-based diluents, thus reducing operation cost significantly.
Contains a knockdown agent and PBO to slow the development of resistance.
WHO-PQ listed (Ref.No.:008-003) (Also known as Aqua Reslin Super outside of Southeast Asia)
Application rates and delivery
Safety instructions:
Always read the product label before use.
Keep out of reach of children.
Do not use any rates other than those recommended in the product label.
Harmful if swallowed.
Do not eat, drink, or smoke when handling this product.
Avoid contact with skin or eyes.
Avoid inhalation of fumes and spray mist.
Wear the standard protective clothing (PPE), including gloves, goggles, masks and breathing apparatus (respirator); when handling this product.
After using this product, make sure that the pesticide container is tightly closed and stored in a locked room that is dry, cool and well-ventilated.
After work, thoroughly wash hands and all parts of the body contaminated during handling and application with plain soap and water.
Wash your hands and spray or atomizer thoroughly after use.
How to use:
Dilute Aqua Resigen® with a suitable volume of water and apply using equipment capable of generating a mist or thermal or cold fog. Avoid application outdoors in the heat of the day, when wind speeds exceed of 10 kph, or during dust storms or rainfall.
Aqua Resigen® is suitable for dilution in WATER ONLY and application as an Ultra Low Volume (ULV), thermal fog or mist.
During insect treatments the spray should, where possible, be aimed at likely insect harbourages to obtain good penetration. As the product may separate on storage, agitate thoroughly before dispensing.
Timing:
Apply at the first sign of an infestation.
Spray in the early morning or evening.
Please read the label and use according to the recommendations.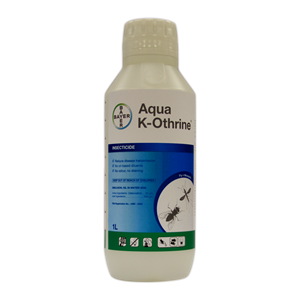 Insecticide
Aqua K-Othrine®
Emulsion, Oil in Water
Aqua K-Othrine® is a pyrethroid-based concentrate with a...
See product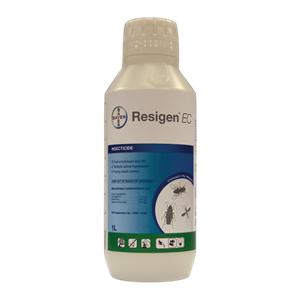 Insecticide
Resigen® EC
Emulsifiable Concentrate
Resigen® EC - the versatile space spray to control adult...
See product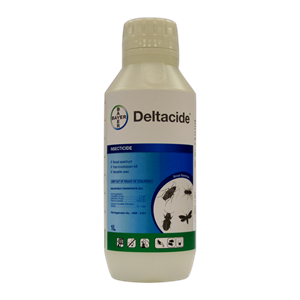 Insecticide
Deltacide®
Emulsifiable Concentrate
Deltacide® is a powerful oil-based spray insecticide for...
See product