Print page
Maxforce® Forte
Maxforce® Forte
Print page
Product Overview
Product Description
Key Product Facts:
Active ingredients: Fipronil 0.05% w/w.
Fast results – visible results on the same day.
Best overall cockroach control.
Powerful secondary kill – Domino Effect.
Superior contact kill with ContactX technology.
Lasts for up to 3 months (between service visits).
Low toxicity to non-target animals – ideal for use in sensitive areas.
Eliminates the need to spray for cockroaches.
Inconspicuous treatment with minimal disruption.
Easy to apply in a minimum of time.
Highly cost-effective.
Application rates and delivery
Safety instructions:
Always read the product label before use.
Keep out of reach of children.
Do not use any rates other than those recommended in the product label.
Do not eat, drink, or smoke while handling the product.
Avoid contact with the eyes and skin.
Avoid contact with food, food utensils or surfaces where food is prepared or stored. Do not apply on food preparation or serving surfaces.
How to use:
Maxforce® Forte should be applied through a precision dosing gun. To apply the gel, touch the nozzle tip of the dosing gun to the crevice, crack or surface to be treated and depress the plunger tightly until the required amount is released. Application should be done methodically, i.e. beginning from one part of the room and progressing systematically until the whole room is finally treated.
Do not apply in areas that are exposed, routinely washed or treated with another insecticide. Normal care should be taken when treating electrical appliances. Avoid contact with porous surfaces as the bait may stain.
Apply product to likely areas of cockroach activity such as cracks, crevices, and narrow sheltered spaces. These are often located in corners, joints or underneath/behind furniture and appliances.
Rate of Application:
Drop (placement) Size:
Gerrman cockroach 0.03 (3 - 4 mm diameter).
Oriental cockroach 0.06 (3 - 4 mm diameter).
American cockroach: 0.06 (6 - 7 mm diameter).
The number of placements is dependent on the infestation present. Fewer placements are required for low infestations. Numerous small placements will provide faster control and are required for control of numerous infestations.
Monitor regularly. Re-apply according to the remaining level of infestation when the bait is no longer visibly present. The use of glue traps is helpful in surveying populations.
Timing:
Apply at the first sign of an infestation.
Please read the label and use according to the recommendations.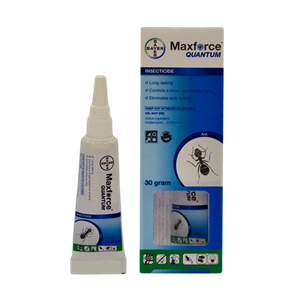 Insecticide
Maxforce® Quantum
Ready to use Bait
Maxforce® Quantum is a ready to use insecticidal bait for...
See product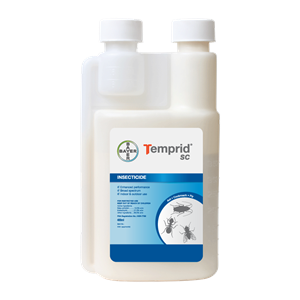 Insecticide
Temprid® SC
Suspension Concentrate
Temprid® SC gives you unsurpassed knockdown, residual...
See product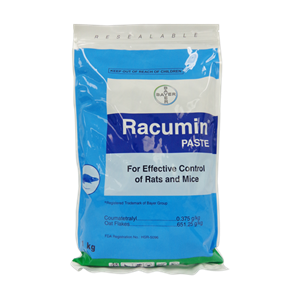 Rodenticide
Racumin® Paste
Ready to use Bait
Racumin® Paste is a highly palatable universal bait...
See product